Staff
Here at Georgia Gymnastics Academy (GGA) we give the highest priority to the safety of your child and the quality of training he/she receives. GGA coaching staff members have been trained and certified through the United States Gymnastic Federation (U.S.G.F). In addition, our coaches have been safety certified by a USA National Safety Certifier. We also provide Red Cross CPR & safety training/certification for all of our staff members.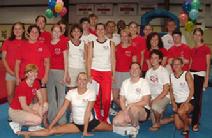 The GGA coaching staff is dedicated to developing gymnastic talent in a way that teaches each gymnast self-discipline, self-esteem, perseverance and pride of accomplishment. From beginning recreational gymnastics levels all the way to our nationally-competitive Team Gymnasts, our athletes receive structured training that allows them to go as far as they want…both in gymnastics and in life itself. Recreational gymnastics and cheer training are the cornerstones of our developmental program. Our coaching staff works with each gymnast on an individual basis.
We work with thousands of children each year, teaching them not only the strength, balance and flexibility skills of these sports, but also the satisfaction and reward that comes with hard work and dedication.
Children need exercise in their daily routines. Unfortunately, they don't get the 8 – 10 hours per week recommended by child fitness experts. Parents who believe they can depend on public school curriculums to meet these minimum physical fitness needs are sadly mistaken. Children perceive the lack of emphasis on adequate exercise as approval for a sedentary life style. As a direct result of this inadequate emphasis, obesity is on the rise in the USA. So where can you turn? To break the cycle, children need to develop a healthy respect for their entire physical and mental health. Gymnastics and Cheer training are much more than gross motor skills and strength training. Our coaches encourage proper eating and nutritional habits to build physical strength.
They also emphasize the mental discipline to prepare our student athletes for life's challenges. Children come to understand that determination is much more important than inspiration. They grow to realize that you're not beaten when you lose, you are only beaten when you quit!
Our friendly & helpful office staff is waiting to hear from you!
Our Coaches