Staff
Here at Georgia Gymnastics Academy (GGA) we give the highest priority to the safety of your child and the quality of training he/she receives. GGA coaching staff members have been trained and certified through the United States Gymnastics Federation (U.S.G.F). In addition, our coaches have been safety certified by a USA National Safety Certifier. We also provide Red Cross CPR & safety training/certification for all of our staff members.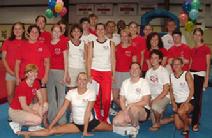 The GGA coaching staff is dedicated to developing gymnastics talent in a way that teaches each gymnast self-discipline, self-esteem, perseverance and pride of accomplishment. From beginning recreational gymnastics levels all the way to our nationally-competitive Team Gymnasts, our athletes receive structured training that allows them to go as far as they want…both in gymnastics and in life itself. Recreational gymnastics and cheer training are the cornerstones of our developmental program. Our coaching staff works with each gymnast on an individual basis.
We work with thousands of children each year, teaching them not only the strength, balance and flexibility skills of these sports, but also the satisfaction and reward that comes with hard work and dedication.
Children need exercise in their daily routines. Unfortunately, they don't get the 8 – 10 hours per week recommended by child fitness experts. Parents who believe they can depend on public school curriculums to meet these minimum physical fitness needs are sadly mistaken. Children perceive the lack of emphasis on adequate exercise as approval for a sedentary life style. As a direct result of this inadequate emphasis, obesity is on the rise in the USA. So where can you turn? To break the cycle, children need to develop a healthy respect for their entire physical and mental health. Gymnastics and Cheer training are much more than gross motor skills and strength training. Our coaches encourage proper eating and nutritional habits to build physical strength.
They also emphasize the mental discipline to prepare our student athletes for life's challenges. Children come to understand that determination is much more important than inspiration. They grow to realize that you're not beaten when you lose, you are only beaten when you quit!
Our friendly & helpful office staff is waiting to hear from you!
Our Coaches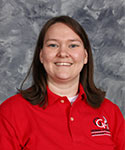 Coach Jennie
Class/Program Director
Jennie was born and raised in Atlanta, Georgia. She has been involved with gymnastics for over 20 years and competed for Georgia Gymnastics Academy Lawrenceville.  Jennie went on to compete for Centenary College of Louisiana, where she majored in Health and Exercise Science and minored in Business.
While attending Centenary, she became the national champion on the uneven bars and helped Centenary win the national team title.
Jennie enjoys being home and coaching at the gym where she grew up.  She is certified in first aid, CPR, and safety certified through USAG.  In her spare time, Jennie enjoys attending sporting events and relaxing at home with her husband, Patrick and daughter Grace.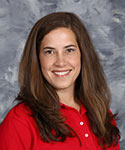 Coach Kristen
Team Director
Kristen started gymnastics at the age of 5. She moved every 2 years with her military family. She was the state champion as a class IV (Level 4) gymnast in New Hampshire, took 8th place in Nebraska as a Class III (Level 5) gymnast and ended her gymnastics career in Illinois as a Class II (Level 8). She represented Illinois at the Regional's competition.
Kristen attended the University of Georgia. She has a degree in Exercise and Sports Science. After college she was the gymnastics coordinator for a YMCA. She started working at GGA Lawrenceville and had several state team titles and individual champions at Level 4. After a break she came to join us at GGA Suwanee. She is coaching the Level 4 team, tumble tykes and doing birthday parties. She is certified in first aid, CPR, and safety certified through USAG. In her free time she enjoys spending time with husband, 3 boys and her family.
Coach Janey
Birthday Party & Tumble Tykes Directior
Janey is from Boston and has lived in Georgia since 1991.  She loves children and has five of her own.  She has been teaching Tumble Tykes since 1995 and enjoys it very much.
Janey is a firm believer in enthusiasm while working with children. Her teaching philosophy is to praise the children and give them many compliments and much encouragement.  She believes that children need disciple, love and praise and to have a safe environment in which to learn.  She hopes anyone taking her class has fun and wants to be here.
When she is not working she loves spending time with her family and her beautiful grandchildren.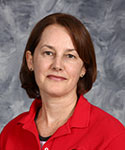 Coach Meg
Special Events Coordinator
Meg is from Savannah, Georgia. She spent her grade school years in Hendersonville, NC. She moved to the Atlanta area after graduating from Montreat-Anderson College, where she studied Parks & Recreation Management. Meg was a member of her junior and high school gymnastics teams. She began teaching recreational gymnastics during her junior year of high school. While in college, she directed the summer gymnastics program and day camps for her local recreation department.
Meg began teaching gymnastics in the Atlanta area in 1982, and has been employed at GGA since 1989 with the exception of a two year period in which she worked at Stars Gymnastics in Colorado Springs, CO. She is certified in first aid, CPR, and safety certified through USAG.