Class Schedule – Lawrenceville
Fall 2018 – 2019
Monday, 8/6/18 – Saturday, 8/3/19 
98 Patterson Rd, Lawrenceville, GA 30044
Note: Rates shown below are per month. Tuition is a straight monthly fee.
Tumble Tyke Schedule
TUMBLETYKES®
This program is designed to allow your child to participate in an activity that promotes fun and physical fitness through the sport of gymnastics. It is also the goal of this program to introduce important socialization skills such as listening and following directions, waiting for turns, and interacting with new friends. Your child will receive an achievement ribbon approximately every sixteen weeks to reward his/her participation in this program. Tumble Tykes is for children 1 1/2 – 5 1/2 years old. Once your child enters into Kindergarten they can advance into the Kindergarten/1st grade program.
If your child is over 3 years, 6 months, they will be the TumbleTyke (TT3/4) program. Once they turn 4 they will stay in the TT3/4 program till the end of the session. They will move up to the TT4/5 class in the next session.
If your child 4 years and not in or entering Pre-K, they will be the TumbleTyke (TT4/5) program. Once they turn 5 they will stay in the TT4/5 program till the end of the session. They will move up to the K/1 class in the next session.
Girl's Class Schedule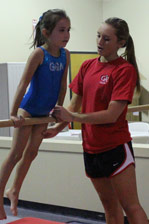 KINDERGARTEN / 1ST GRADE / NOVICE 1 YOUNG/ NOVICE 1
This level of gymnastic instruction is an "introduction" level. The goal of this program is to introduce students to basic gymnastic skills, creating a foundation that will prepare them for our mastery levels. Your child will work on the Olympic events and the trampoline.
Girls Olympic Events: Vault, Bars, Beam, and Floor
Boys Olympic Events: Floor, Pommel Horse, Rings, Vault, Parallel Bars, and Horizontal Bar
Twice a year your child will receive a ribbon during ribbon week. Each gymnast will also receive a skill sheet listing the skills he/she will be exposed to throughout the year.
Kindergarten / 1st Grade
Novice 1 Young
Novice 1

NOVICE 2 YOUNG / NOVICE 2 / SILVER MEDAL / GOLD MEDAL
These classes comprise our "mastery" program. The goal of this program is to aid students as they progress from basic gymnastic skills to a more difficult and challenging skill level. Students will receive an "evaluated" skill sheet twice a year. This skill sheet will contain check marks noting all skills that the student has mastered up to that date. Students will also receive ribbons per Olympic event as the Kindergarten/1st Grade students, with the total number of mastered skills listed on the back of each ribbon. Georgia Gymnastics Academy strives to maintain a high quality gymnastics program for every child.
Novice 2 Young
Novice 2
Silver Medal
Gold Medal
Tumbling Schedule
TUMBLING
GGA Tumbling classes is available for students ages 7 & up. The classes teach progressive skills on trampoline, mini-tramp, tumble trak, floor and rope. Instructors may also introduce other pieces of equipment during class to continue building strength, coordination, flexibility and technique. These classes also provide the best foundation for developing a higher fitness and mental level, which can also transfer to other sports.
GGA also offers tumbling classes developed specifically to enhance cheerleading skills. Whether you are working on round-offs, or back tucks, our tumbling cheerleading classes help you improve current skills and learn new skills that will help you become the best cheerleader you can be! Classes are structured for current cheerleaders, aspiring cheerleaders, and for those who enjoy tumbling and jumping and want to give it a try! We even offer an advanced class for those wanting to work on more progressive skill building.